Custom-made English courses and English training in Duisburg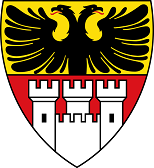 Does your company need English training in the Duisburg area?
The city of Duisburg has long been one of the industrial powerhouses in Germany and as such contains an extraordinary amount of international companies. We at Business English Academy are specialists in English training, which is one of the foremost requirements for a global company.
We believe we have a solution for modern international German industry in their endeavours to improve their English skills by a much more modern and we think unique approach and that is: targeted English, the ideal approach for modern German businesses.
So that when you need a teacher to teach legal English, their invaluable background as a practicing lawyer in another country is extremely useful to enable your employees to develop their English skills, in this case in the field of legal English, in a much more efficient and rapid manner.
We will place your employees in groups according to our free online placement test and in consultation with our competent trainers.
We can offer even further targeted English with our wide range of specialized seminars, for example a seminar to help your employees deal with the Indian English accent. For more information on our specialized seminars please click the following link: BEA seminars

Should you require a personal appointment, do not hesitate to contact us. Or if you simply want to talk to us for more information you can ring this number

or contact us via the form on the left and we will get back to you.
Whatever your requirements for language learning in the Duisburg area, we are here to help.